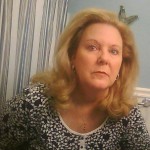 Larkin Pfeffer
As long as I can remember I have been an Artist, at least in my own mind. I have always had this passion to create through some form of medium and I have tried them all. Glass fascinates me and seems to be the only medium that I do not get bored with and never seem to be able to master. This makes it a challenge, which keeps me constantly learning. I have been making glass beads, completely by hand, for 15 years now and continue to practice, practice, and practice everyday. There is always something new and exciting to learn and create. There are new techniques, new glass and colors, and every time I sit at the torch it is an adventure that I cannot describe.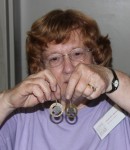 Linda Sue Barnes
Making jewelry is fun…
I make jewelry because it is fun. My favorite part of making jewelry is using natural stones and fossils. I love to cut into a slab of stone and see the beautiful cabochon emerging. The challenge is to find a way to display the stone or fossil securely without covering much of its beauty. I like to use plants and animals as models for the jewelry I make; it is interesting to see how many ways I can incorporate daylilies into my jewelry. I have begun to do enameling and plan to hone my skills in that area. I also work with my husband in the wood shop making pens, ornaments, and whirligigs and have begun to use scrap pieces of wood to make beads or focal pieces.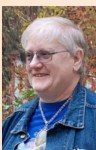 Gail Ferguson
Born and raised in Indiana, Gail Ferguson spent several years in the Womans Army Corps. She came to Fayetteville seven years ago and retired. She has been silversmithing for 25 years. She was mentored by Ralph Geilhs and Mack Thornton, both master silversmiths from Arizona. Gail has taken classes in cabbing, opal cutting, inlay, intarsia, and wire wrapping from William Holland School of Lapidary Arts. Currently, she is teaching cabbing, opal cutting, silversmithing, and inlay. She will be teaching metal smithing classes at Fayetteville Technical Community College starting in February.