About Us
Cape Fear Studios, Inc. (CFS) is a nonprofit arts organization in historic downtown Fayetteville. Our mission is to involve, educate, and enrich Cumberland County and surrounding communities with the opportunity to create and freely view art.
We invite you to visit our main gallery and retail gallery to find beautiful paintings, photographs, sculptures, pottery, wood and glass art, and fine jewelry by local, national, and international artists. We present quality exhibits at no cost to the public, and offer educational opportunities to the community through workshops, classes, and mentoring. Come visit CFS and discover our versatility and variety. We look forward to seeing you soon!
As a nonprofit organization, Cape Fear Studios needs the support of art lovers and supporters in our community. Please help us continue all our wonderful projects by making a donation. Click on our Donate button to check out the different ways you can send in your donation.
History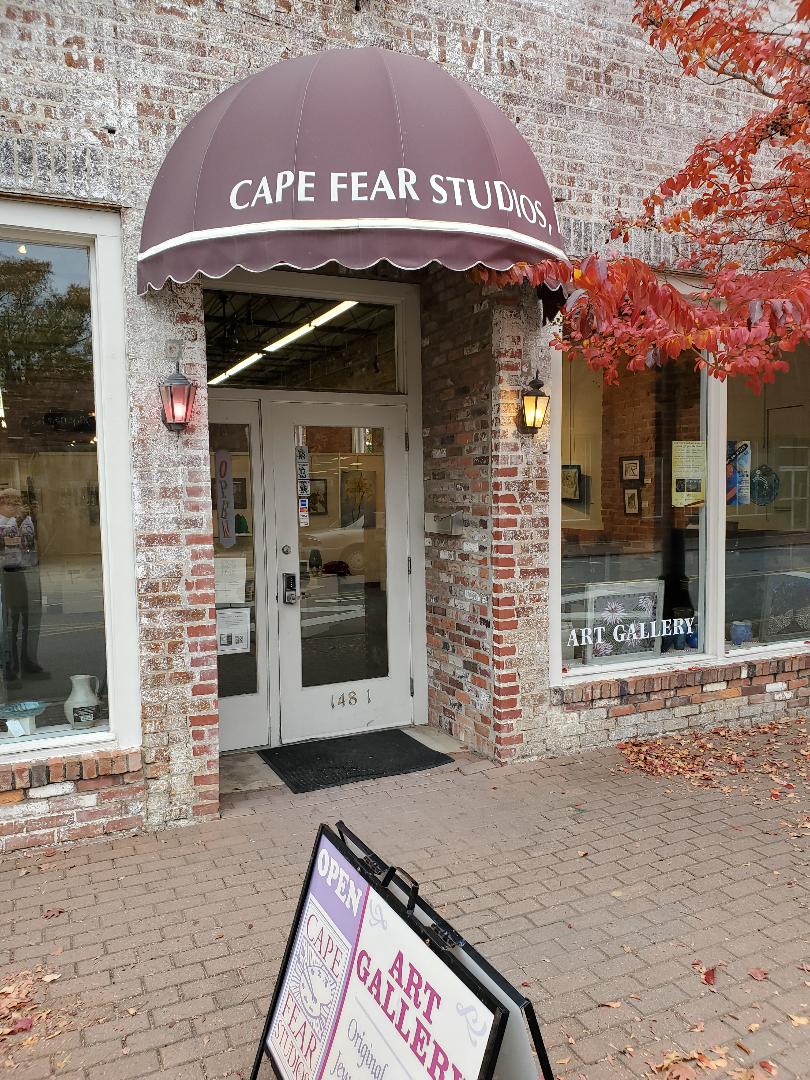 Cape Fear Studios (CFS) was established in 1989 and is the one and only visual arts cooperative in Fayetteville. We have been in the same location on Maxwell Street since opening and pride ourselves on twenty-five years of growth and exploration of the arts. Local member artists pay an annual fee each year and volunteer their time to assist in the operation of the Studios.  CFS is supported by project grants from the Arts Council of Fayetteville/Cumberland County, the Cumberland Community Foundation, the Florence Rogers Trust and the generosity of our donors.
CFS is comprised of a gallery, a retail area, seven artist studios and an open area that is used for classes and a meeting place

In the gallery and retail area we show works of pottery, sculpture, photography, painting, glass, wood, jewelry, and various other mediums. These are all unique pieces created by our member artists; we rotate art on a monthly basis.  Cape Fear Studios is always looking for new member artists to join us.

CFS features a new exhibit each month in the main gallery. Exhibiting artists include Cape Fear Studios members, regional, and national, artists. We invite a visiting artist to display their work in our retail gallery quarterly.  Each new exhibit opens in conjunction with downtown's 4th Friday–a monthly celebration showcasing art, street vendors, and special events in downtown Fayetteville.  We invite you to stop in to see our newest exhibit, meet our artists and check out the new works during each 4th Friday opening.
In addition to our gallery and retail area, Cape Fear Studios also boasts seven fully functional studio spaces which are rented by member artists. Huge skylights throughout the building let in natural light and make this a wonderful place to work and observe art. When you visit, please feel free to wander in and out of the studios and watch the artists at work. Our studios currently have seven painters and two potters, so you can usually see a variety of artwork being created.
Cape Fear Studios, in the tradition of North Carolina's wonderful pottery reputation, features pottery wheels and a kiln room. The wheels are available at an hourly rate for all members of the community, and we also fire ceramic pieces for any member of the community who requests that service. Prices vary based on the size of the piece(s) and the number of pieces loaded into the kiln. For more information on prices, please contact us.
We are located at 148 Maxwell Street between Franklin and Russell Streets; our hours are:
Tuesday – Friday: 11 a.m. – 5 p.m.
Saturday – 10 a.m. – 4 p.m.
Sunday –  Monday: closed