Become A Member
We have two levels of membership available. Please see the information below to review each.
Exhibiting Membership Information and Application
Cape Fear Studios, Inc. is a nonprofit 501 (c) (3) fine arts organization that provides opportunities for visual artists and art patrons to work together in promoting and learning visual arts. The City of Fayetteville, The Arts Council of Fayetteville-Cumberland County and the N.C. Arts Council support CFS. CFS is located on the corner of Maxwell Street and Russell Street in historic downtown Fayetteville, Cape Fear Studios provides art studios for rent, a gallery where exhibitions of work by member and visiting artists are held, retail space, and classroom space for private lessons, workshops or classes. We are governed by a Board of Directors, which is elected by the membership and operates under by-laws.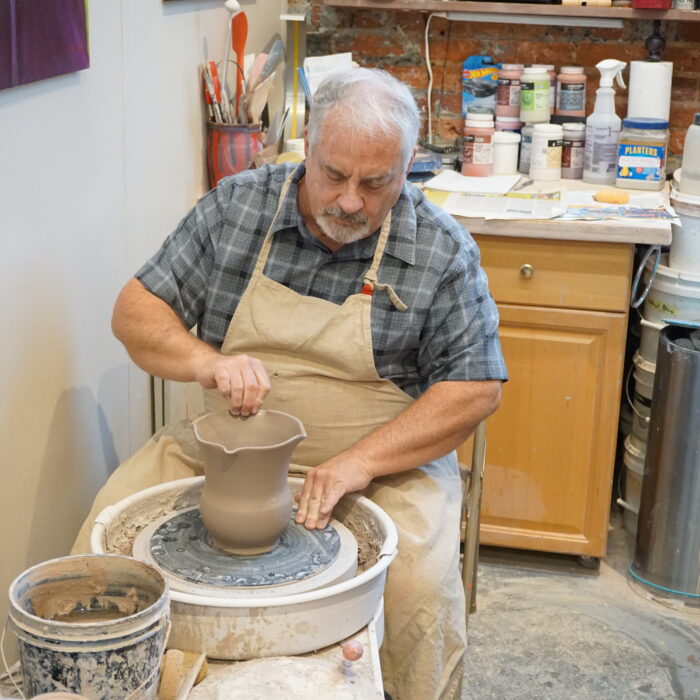 Our stated purposes include provision for:
An extension of the downtown cultural arts and revitalization
Arts education for the public through studio demonstrations, tours and hands-on activities
An outlet for artists to exhibit and sell their work
A source of quality, locally produced visual arts for the public
Please click here for our application for more details on becoming a member:
If you have any questions about any of the above, please don't hesitate to contact us:
Phone: 910.433.2986
Long Distance Membership
Long distance memberships purpose is to bring a greater variety of work from artists with a known reputation.
CFS has been very profitable with our visiting artist commissions. As we work to increase our reputation for our national shows and workshops, it would help to have artists who are known throughout the state as members of CFS.
Requirements:
Long distance membership may be invitational, or juried for new LD memberships. Members can recommend artists to be considered; the board will make the final decision with advice from retail committee.
Due to limited availability of space, no more than 10% of the membership will be long distance members in any given year.
LD members must live beyond a 50-mile radius from Fayetteville.
Annual membership fee will be determined by the Board of Directors.
CFS will retain a 40% commission on works sold.
LD members will be required to donate a piece of their artwork for the annual auction, minimum value $75.
LD members will be asked to consider teaching a workshop or provide a program for CFS.
LD members are responsible for the cost of transporting their work to and from CFS, including insurance.
Amount of work LD members may submit per quarter:

2D – 4 pieces
Jewelry – ½ case
Pottery/3D – 10-15 pieces depending on size
All decisions on placement will be made by the retail committee.