Artists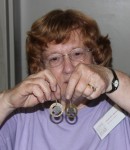 Linda Sue Barnes
Making jewelry is fun…
I make jewelry because it is fun. My favorite part of making jewelry is using natural stones and fossils. I love to cut into a slab of stone and see the beautiful cabochon emerging. The challenge is to find a way to display the stone or fossil securely without covering much of its beauty. I like to use plants and animals as models for the jewelry I make; it is interesting to see how many ways I can incorporate daylilies into my jewelry. I have begun to do enameling and plan to hone my skills in that area. I also work with my husband in the wood shop making pens, ornaments, and whirligigs and have begun to use scrap pieces of wood to make beads or focal pieces.
Retired Professor of Biology–Methodist University
Media–natural stones, wire, metal clay, enamel, resin, wood. Much of my jewelry has a nature theme. When I'm working at the botanical garden or walking in the woods, I find myself wondering how I can use that twig, leaf or seed pod in a piece of jewelry. I'm constantly trying new things and am now working with copper metal clay, enameling on sheet metal and silver and copper clay, and making lampwork glass beads. I also enjoy making kaleidoscopes.
Other interests include growing daylilies and attending daylily meetings, photography, volunteering at Cape Fear Botanical Garden, and teaching Sunday School and singing in the choir at Bluff Presbyterian Church.
Email:  lsbarnes@nc.rr.com
Phone: (910) 483-2838  (910) 308-0643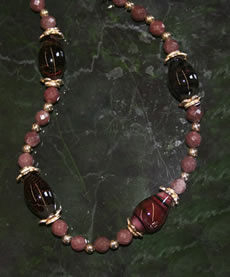 Become a member
EXHIBITING MEMBERSHIP INFORMATION
---
​PLEASE NOTE THAT DUE TO COVID-19 WE WILL NOT BE ACCEPTING ANY NEW MEMBERS UNTIL JUNE 2021, CHECK OUR SOCIAL MEDIA AND WEBSITE FOR MORE INFORMATION
---
​Exhibiting Membership Information and Application
​Cape Fear Studios, Inc. is a nonprofit 501 (c) (3) fine arts organization that provides opportunities for visual artists and art patrons to work together in promoting and learning visual arts. The City of Fayetteville, The Arts Council of Fayetteville-Cumberland County and the N.C. Arts Council support CFS. CFS is located on the corner of Maxwell Street and Russell Street in historic downtown Fayetteville, Cape Fear Studios provides art studios for rent, a gallery where exhibitions of work by member and visiting artists are held, retail space, and classroom space for private lessons, workshops or classes. We are governed by a Board of Directors, which is elected by the membership and operates under by-laws.
---
Our stated purposes include provision for:
​An extension of the downtown cultural arts and revitalization
Arts education for the public through studio demonstrations, tours and hands-on activities
An outlet for artists to exhibit and sell their work
A source of quality, locally produced visual arts for the public
---
​Please see our application for more details on becoming a member, use drop down tab "Become a Member"
​If you have any questions about any of the above, please don't hesitate to contact us:
​Phone: 910.433.2986
Email:artgallery@capefearstudios.com