Artists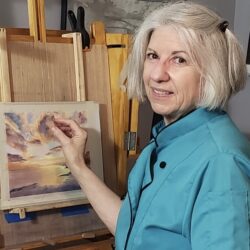 Susan Hester
My artistic journey began with Photography when my son was born, which transitioned into developing film in my darkroom where I learned to enhance the original image. My horizons expanded with my first digital camera and exploring Lightroom and Photoshop. In 2011 my artistic journey shifted when I began exploring drawing with graphite, charcoal and inks and then painting with oils, acrylics, watercolors and pastels. I'm passionate about painting with pastels and watercolors, I love the vibrant colors. I enjoy a variety of subjects – portraits, landscapes and still life – it keeps me engaged and always learning. Painting brings joy and relaxation to my life and at times it brings joy to others and that is my goal. I can't imagine life without painting and I'm thankful for my artistic husband, Rick, who provides encouragement every day.
Become a member
EXHIBITING MEMBERSHIP INFORMATION
---
​PLEASE NOTE THAT DUE TO COVID-19 WE WILL NOT BE ACCEPTING ANY NEW MEMBERS UNTIL JUNE 2021, CHECK OUR SOCIAL MEDIA AND WEBSITE FOR MORE INFORMATION
---
​Exhibiting Membership Information and Application
​Cape Fear Studios, Inc. is a nonprofit 501 (c) (3) fine arts organization that provides opportunities for visual artists and art patrons to work together in promoting and learning visual arts. The City of Fayetteville, The Arts Council of Fayetteville-Cumberland County and the N.C. Arts Council support CFS. CFS is located on the corner of Maxwell Street and Russell Street in historic downtown Fayetteville, Cape Fear Studios provides art studios for rent, a gallery where exhibitions of work by member and visiting artists are held, retail space, and classroom space for private lessons, workshops or classes. We are governed by a Board of Directors, which is elected by the membership and operates under by-laws.
---
Our stated purposes include provision for:
​An extension of the downtown cultural arts and revitalization
Arts education for the public through studio demonstrations, tours and hands-on activities
An outlet for artists to exhibit and sell their work
A source of quality, locally produced visual arts for the public
---
​Please see our application for more details on becoming a member: http://www.capefearstudios.com/wp-content/uploads/2018/01/CFS-Membership-Application-Jan-2018.pdf
​If you have any questions about any of the above, please don't hesitate to contact us:
​Phone: 910.433.2986
Email: artgallery@capefearstudios.com