Artists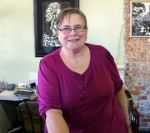 Jill Dieffenbach
I began my journey as a potter 42 years ago right here in Fayetteville, where I took my first pottery lessons through a Fayetteville Parks and Recreation program. As an army dependent, I moved throughout the United States and was able to take lessons throughout the years. I eventually returned to Fayetteville and looked towards working with clay. After taking several classes through Fayetteville Technical Community College, I ended up teaching pottery 15 years for FTCC 's Continuing Education program. I eventually retired from teaching pottery and being an elementary school librarian after 30 years. This has given me time to focus on doing the things I love most; spending time with my 4 daughters and my 5 grandchildren, making pottery, and working to support Cape Fear Studios where I have enjoyed being an active member and supporter for over 31 years. As was one of the founding member artists, who worked to establish Cape Fear Studios; an organization where local artists could work together to create and share their art; I take great pride in helping make Cape Fear Studios a great place to view and experience art in our community.
Become a member
EXHIBITING MEMBERSHIP INFORMATION
---
​PLEASE NOTE THAT DUE TO COVID-19 WE WILL NOT BE ACCEPTING ANY NEW MEMBERS UNTIL JUNE 2021, CHECK OUR SOCIAL MEDIA AND WEBSITE FOR MORE INFORMATION
---
​Exhibiting Membership Information and Application
​Cape Fear Studios, Inc. is a nonprofit 501 (c) (3) fine arts organization that provides opportunities for visual artists and art patrons to work together in promoting and learning visual arts. The City of Fayetteville, The Arts Council of Fayetteville-Cumberland County and the N.C. Arts Council support CFS. CFS is located on the corner of Maxwell Street and Russell Street in historic downtown Fayetteville, Cape Fear Studios provides art studios for rent, a gallery where exhibitions of work by member and visiting artists are held, retail space, and classroom space for private lessons, workshops or classes. We are governed by a Board of Directors, which is elected by the membership and operates under by-laws.
---
Our stated purposes include provision for:
​An extension of the downtown cultural arts and revitalization
Arts education for the public through studio demonstrations, tours and hands-on activities
An outlet for artists to exhibit and sell their work
A source of quality, locally produced visual arts for the public
---
​Please see our application for more details on becoming a member, use drop down tab "Become a Member"
​If you have any questions about any of the above, please don't hesitate to contact us:
​Phone: 910.433.2986
Email:artgallery@capefearstudios.com